In this course you will learn the 6 steps you can start today to begin effectively naming and holding your boundaries with your partner tomorrow.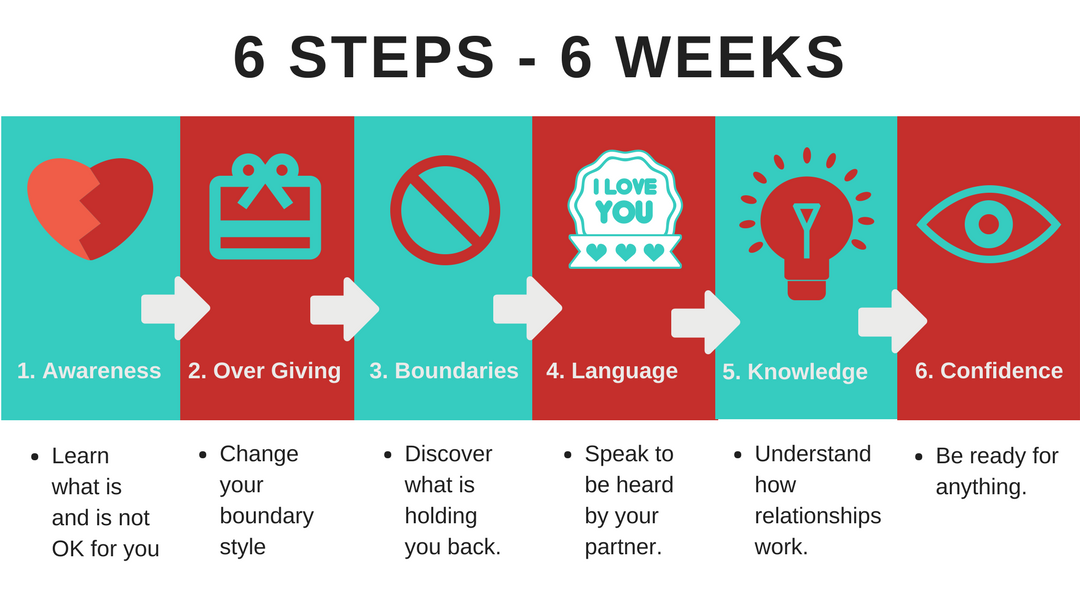 6 Steps - 6 Weeks
Step 1 - Understand what is OK and not Ok for you in your relationship
Step 2 - Do you give and give in your relationship till it hurts? Learn to change you boundary style and protect yourself.
Step 3 - Discover what is holding you back from communicating clearly and holding your boundaries with your partner.
Step 4 - Use my toolkit to use the right language to name your boundaries with clarity and certainty.
Step 5 - Understand how relationships work - knowledge is power you can use to stop the arguing cycle and take back your power.
Step 6 - Build your confidence to be ready for anything.
When you speak your truth and name your boundaries with your partner you build your confidence. You cannot change your partners response to your requests ~ but ~ you will have heard yourself say the words with conviction and self respect ~ and that is what makes the difference.

Your will have the clarity to take control of your life, who you are, what you want and who you want to spend your life with.

How this Course Works:
If you are not satisfied, Elizabeth offers a 100% money back guarantee.